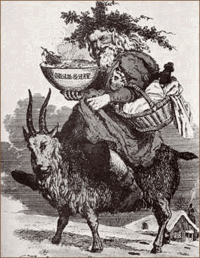 The holiday season is rapidly coming to a crescendo, with Hanukkah, Winter Solstice, Christmas, Kwanzaa, and of course, the Burning of the Clocks, all crowding into a two week period. But you might not realize that this is just the tip of the iceberg. There are many other ethnic and in some cases, archaic observances that fall precisely in this same window of time. Amaterasu, Beiwe, Brumalia, Chawmos, Deygān, Maidyarem, Dōngzhì, Goru, Hogmanay, Inti Raymi, Junkanoo (John Canoe), Karachun, Koleda, Lá an Dreoilín (Wren day), Lenaia, Lucia, Makara Sankranti, Maruaroa o Takurua, Grianstad an Gheimhridh, Mōdraniht, Mummer's Day, Rozhanitsa, Shab-e Chelleh, Sanghamitta, Saturnalia, Şewy Yelda, Sol Invictus, Soyal, We Tripantu, Zagmuk, Ziemassvētki, to name a few.
Whatever festivities and celebrations you have engaged yourself in this season, we hope you are making the most of it, and whatever you do, don't hold back!
Many of you who are getting this note have a full subscription to Outside the Lines and will be receiving your regular installment, with Peggy's Progress, a quick preview of the January interview, a link to something special we have found on the web this month, and more on Christmas morning.
For those of you who are hanging out in the free list, there is still time to get a full subscription started before the Christmas morning issue. Just go to the Subscribe button below. (There is a small processing delay, so if you wait until Saturday night you might not get the Sunday delivery on time.)
And of course, there is still time to get a subscription for a creative person who is special to you before Christmas. A subscription is a very economical gift that keeps on coming every week. We don't have a dedicated way to do gift subscriptions on the Amazon Payments system, but we can easily get around that, so send us an email if you're interested and we'll make it happen.
Get your copy of The Element
by Sir Ken Robinson
We want you to have your own copy of
The Element: How Finding Your Passion Changes Everything
by Sir Ken Robinson. We love this book, and think it will be a great addition to your library. In fact, we want to buy you a copy. There's more information
here
.
In the mean time, here are links to a couple of wonderful TED talks by Sir Ken in case you are not familiar with his work:
Schools Kill Creativity, Feb 2006, Monterey CA
Bring On the Learning Revolution! Feb 2010, Long Beach CA
contact us

Have you got an idea for Outside the lines, or question for us?
Drop us a line!


Peggy Sonoda
peggy@windhook.net


Michael Reddell
michael@windhook.net

PO Box 160
Cambria, CA 93428
See our website for more information about us.

Subscribe

Subscribe to Outside the Lines to get our interviews delivered to your email box on the first Sunday each month, along with additional emailed articles during the course of the month. Subscribers also get full access to our Member Resource directory. There you will find all of our interviews, articles, and other resources that we provide to subscribers.
Copyright © 2011 Windhook®. All Rights Reserved.